Original and authentic. What is the taste of the Ukrainian Carpathians?
Fresh and aged cheeses, original cold meats, Carpathian teas and mushrooms, natural honey, pollen, oils, and genuine Zakarpattia lekvar (Hungarian jam) – all these products are made by Carpathian producers united under the Taste of the Ukrainian Carpathians trademark. Their philosophy is built around authentic products and delivering the best quality and unique taste to the customers.
Let us look at those who create the Taste of the Ukrainian Carpathians and find out what drives them to make the products, where we can buy the products and how other producers can join the Union.
Authenticity and taste
Carpathian Taste Public Union was created in 2013 with the support of the Swiss State Secretariat for Economic Affairs (SECO). The Union currently has 20 Ukrainian producers from the ecologically clean mountainous districts of Lviv, Ivano-Frankivsk, Zakarpattia, and Chernivtsi regions. PU members produce 300 unique assortment items under the joint trademark. Taste of the Ukrainian Carpathians offers fresh and aged cheeses, cold meats, vegetables, cereals and grains, Carpathian herbal teas, mushrooms and mushroom products, honey and pollen, oils, lekvar (original Zakarpattia plum jam), fruit jams, syrups, and juices.
"Our producers are all different, yet they share goals which are not limited to mere money-making. The most important thing for them is making products that carry elements of culture, tasty and authentic elements. The PU members believe that good food should be consumed in its natural form, with minimum thermal processing, to preserve the vitamins, microelements, and calories," Halyna Batyus, Executive Director of Carpathian Taste PU, says.
Producers aim to deliver the best quality to their customers, so they do not use growth stimulants, herbicides and insecticides, colors, and taste enhancers. By choosing Taste of the Ukrainian Carpathians, you support national producers as all the farms are Ukrainian and use solely local products.
Zelenyi Hai eco-farm in Khust district, Zakarpattia region, revives traditional animal farming in the Ukrainian Carpathians and keeps breeds of goats, cows, and sheep typical for the area. It was founded by a Frenchman, Oreste Del Sol, and his wife, Yolana, a Ukrainian with Hungarian roots. The farm employs family members and locals to make goat cheeses, sausage, bacon, and other pork products.
Available on the Ukrainian and EU markets are products from another Zakarpattia farm – Pan Eco, founded by Pavlo Tüzes, President of the Carpathian Taste PU. A total of five people process plums, bilberry, lingonberry, wild raspberry, strawberry, dogwood, apples, redcurrant, black chokeberry to make juices, syrups, and lekvars. Fruit and berries come from Rakhiv, Yasinia, Volovets, and Velekyi Bereznyi districts. The farm also makes meat products from mangalitsa pork.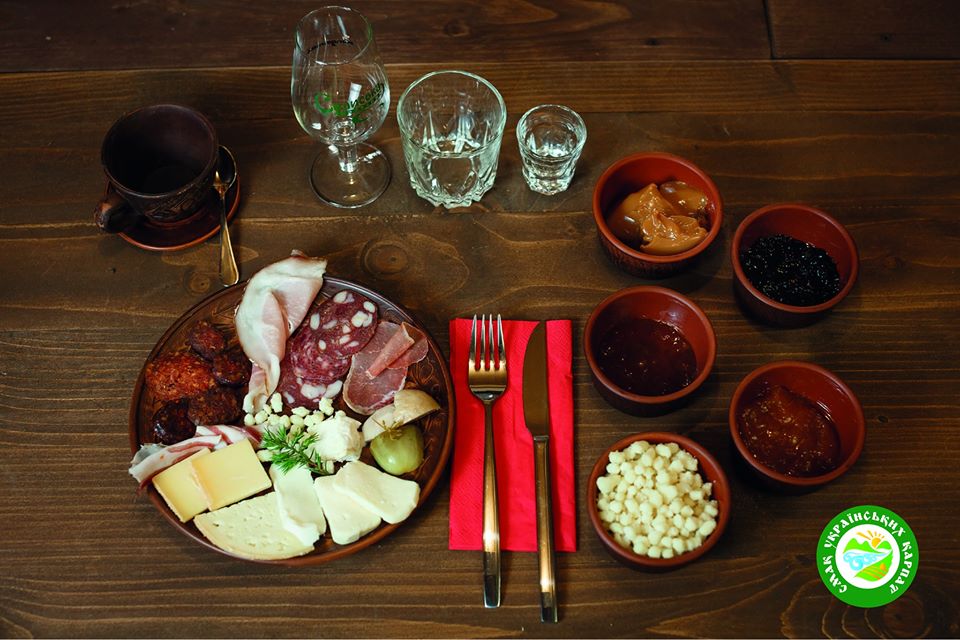 Located on the premises of the farm is a unique Lekvar Museum with a tasting room. The museum collection boasts of jams from more than 50 countries of the world made of familiar plums, strawberry and sweet cherry as well as exotic kiwi, watermelon, and mango.
Since 2009, Stovpiuk Family Brand from Subcarpathia has been exporting herbal teas, phyto drinks, berries in their own juices and mushrooms to Canada, the USA, the Baltic states, and Europe. The company was founded by biologist Mykhailo Stovpiuk who developed an interest in herbs back in his childhood. Medicinal herbs are collected from ecological territories of Subcarpathia and Central Carpathians to be later dried in special collection stations located high up in the mountains. Berries are gathered exclusively by specially trained staff.
In Lviv region, the Taste of the Ukrainian Carpathians is represented by the Two Katerynas Goat Farm, which produces smoked and semi-soft cheeses, homemade cold meats, wine, marinated mushrooms, Carpathian teas, and kvass. There is a tasting room on the premises where guests can attend excursions and workshops. The owners keep around 30 goats and baby goats and have a poultry yard. Guests are allowed to feed the animals and milk goats.
The farming household of Bohdan Kostivin Zolochiv area offers Ukrainian superfoods – spelt, black cumin, amaranth, and green buckwheat. The Hashpar farming household from Zakarpattia is known for cured meat delicacies such as piknytsia sausage, shovdar, Zakarpattia style salami. The Rostoka farm is famous for a variety of natural sheep milk bryndza. Zelenyi Yar is a unique highland farm located in the Gorgany mountains, Mykulychyn. In the summer, guests enjoy the marvelous Carpathian views, talk to shepherds, taste milk, and even participate in creating authentic cheeses. The most highland bee farm in the Carpathians belongs to bee farmer Vasyl Manulyak.
From the field and onto the table
Some Taste of the Ukrainian Carpathians producers, like Two Katerynas Goat Farm, Zelenyi Hai, Selyska Cheese Farm and Pan Eco, run excursions and tastings. You can also buy their products directly at the location. Products of agricultural servicing cooperative Dary Hutsulshchyny, LLC Liluck, and Stovpiuk Family Brand are sold in supermarkets, while organic oils from the producer Elitphito can be found on the website of the global online retailer Amazon.
Before a strict lockdown was imposed, products from the TM producers were offered for tasting at Shevchenkivksyi Hai open-air museum in Lviv. Adjacent to the showroom was a store. When the lockdown began, and everybody was staying at home, people started ordering more products online. We recently launched an online store (tuca-shop.com.ua) where customers can find products from all Taste of the Ukrainian Carpathians TM producers. You can pay for your order on the website. Products are delivered by the Nova Poshta delivery service.
How to join Carpathian Taste PU
Any farmer or producer from the Carpathian region can join the Public Union. According to President Pavlo Tüzes, there is a whole procedure designed for potential candidates: an in-house inspector comes to their production site to check whether it complies with the requirements for ecological properties, naturalness, and local provenance. Producers present themselves and their products, and the Board decides whether to accept them to the Union and give license to use TM labelling.
"Upon becoming a PU member, producers receive many benefits: visibility, information, and food sanitation support as well as opportunities for presenting their products at tasting events, fairs, exhibitions, and festivals," Halyna Batyus, Director of Carpathian Taste PU, adds. "We give our producers the right to use Taste of the Ukrainian Carpathians TM license, which proves high quality and safety standards, bringing the producers closer to recognition on Ukrainian and international markets," Pavlo Tüzes says.
Copyright Tom Kawara / FIBL / SECO, July 2017.
PU operation is made possible via payment of membership fees and grant support, namely of Switzerland, within the framework of the Swiss-Ukrainian programme Higher Value Added Trade from the Organic and the Dairy Sector in Ukraine implemented by the Swiss Research Institute of Organic Agriculture (FiBL) in partnership with SAFOSO AG (Switzerland)
In 2020, the Union signed a new agreement of cooperation with the programme to promote original tasty products from the Ukrainian Carpathians under Taste of the Ukrainian Carpathians TM. The Public Union assumes the lead role in the promotion and enhances the trademark positioning while Switzerland supports the strengthening and growth of the initiative.
Source: Zaxid.net, March 30, 2021.
SEE MORE here:
https://galnet.fm/lekvar-medove-drazhe-ta-palynka-shho-stvoryuyut-ponad-20-unikalnyh-vyrobnykiv-smaku-ukrayinskyh-karpat/