Lekvar, honey dragee and palinka – food products made by more than 20 unique producers from the Taste of the Ukrainian Carpathians
"Authenticity, quality and taste" are the words that best describe the Taste of the Ukrainian Carpathians.
In 2013 producers of natural ecological products from the Ukrainian Carpathians created a public union called Carpathian Taste. The PU currently unites more than 20 small and medium-sized producers from Lviv, Chernivtsi, Ivano-Frankivsk, and Zakarpattia region under the common Taste of the Ukrainian Carpathians trademark.
The members share not only a common logo but also the same philosophy and values. They all advocate for traditional technologies in the making of natural and ecological food products. Current technologies are adjusted to the Ukrainian reality.
Producers and products 
Each of the Taste of the Ukrainian Carpathians producers creates a unique artisanal product with an exquisite taste.
"We make only traditional products: bryndza and other cheeses as well as products which you may not have heard about – lekvar, chicory, and even honey dragee," Andriy Karvatskyi, Board member of Carpathian Taste PU, tells Galnet.
Taste of the Ukrainian Carpathians offers more than 300 labelled products – young and mature cheeses, dairy, original meat products, wild plants (mushrooms, herbs) and their products (raw and processed), honey and pollen, oil, grains, fruit jams, syrups, fish and wine.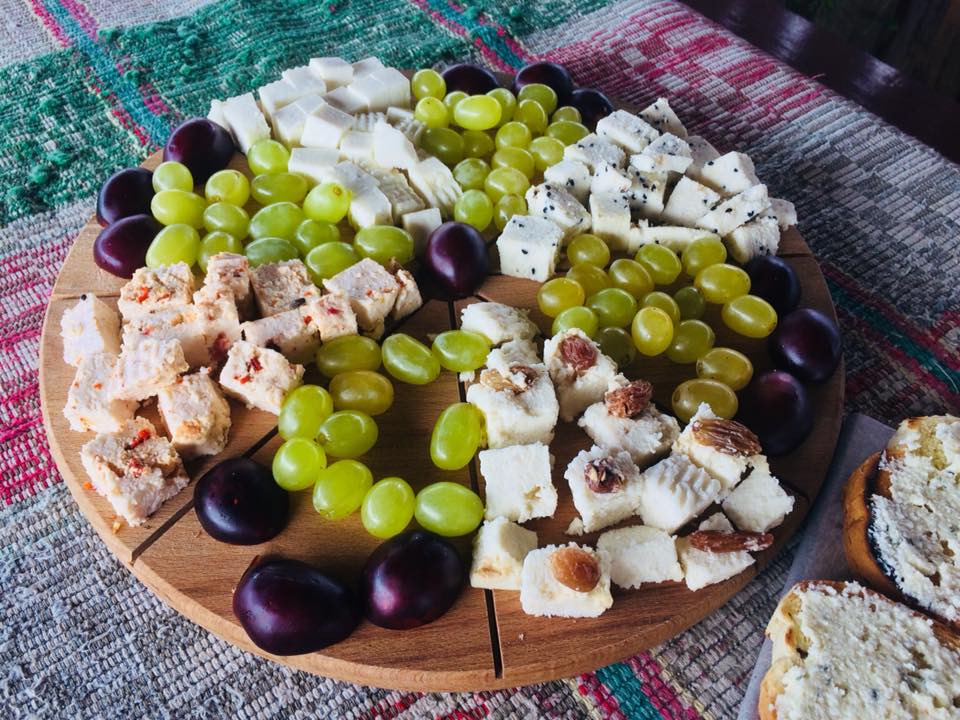 Two Katerynas farm in Lviv region makes dairy products such as goat cheeses, syrups, pickled mushrooms, and Carpathian herbal teas. Also located in Lviv region is a fishing farm, Karpatskyi Vodohrai, established back in 1964. In the six ponds of the farm, they grow six kinds of fish. Another farm worth mentioning is the Kostiv FH in Zolochiv area, where the owners grow nigella, amaranth, green buckwheat and everything that is now fashionably called "Ukrainian superfoods".
Frankivsk region is famous for its organic oils producer Elitphito as well as herbal teas made by Chysta Flora and Mikh Chaiu producers. Zelenyi Yar farm, located in the village of Mykulychyn, makes delicacy cheeses, urda and even "parmesan" according to Swiss technology, which you can store for more than a year!
Zakarpattia producers offer delicious dairy and meat products, wine, syrups and lekvars.  Selyska Cheese Farm makes cow milk cheese and the Zelenyi Hai eco-farm is famous for its mouth-watering bacon and sausages. The latter was founded by a Frenchman, Oreste Del Sol, in the village of Nyzhnie Selyshche, Khust district.
Rostoka farming household specializes in sheep milk bryndza, while the Hashpar farm prides itself on select cured meats, sausage, salami, and other meat products.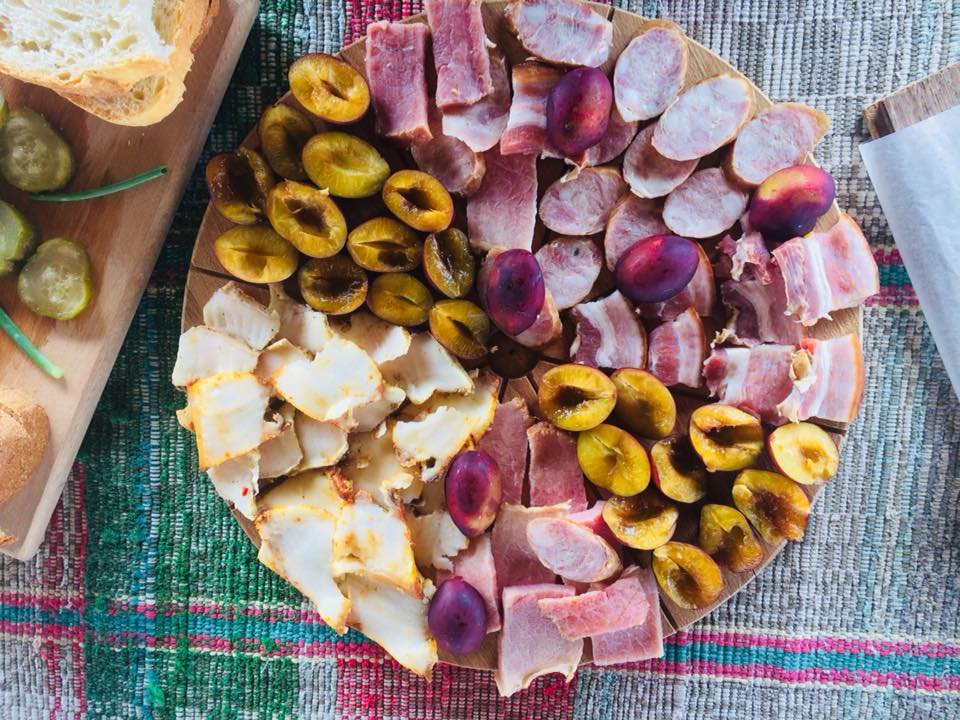 Syrups, juices, lekvars, and organic meat products made from mangalitsa pig meat are the signature products of Pan Eco-Ugocza Taste.
Chernivtsi region seduces with delicious natural juices made by Liluck as well as mushrooms and berries by Dary Hutsulshchyny.
Environmental principles behind the production technologies 
All Taste of the Ukrainian Carpathians producers are located in the Carpathians and use raw materials sourced from the said region to ensure the quality of products and guarantee the principle of eco-friendliness of production processes. Andriy Karvatskyi tells Galnet that every eager producer can join the PU – as long as their production technologies comply with specific criteria.
"We have a procedure for admitting new members to the PU. There is an internal inspection of the facilities and a check for eco-friendliness, naturalness, local provenance, and use of chemicals in production. A producer has to present themselves and their products. The decision on accepting a new member is made after that."
"Upon becoming a PU member, producers receive a number of benefits: visibility, information and sanitary standards support as well as opportunities for presenting their products at tasting events, fairs, exhibitions, and festivals," Halyna Batius, director of Carpathian Taste PU, adds.
It should be mentioned that Switzerland supports the Carpathian Taste PU within the framework of the Swiss-Ukrainian programme "Higher Value-Added Trade from the Organic and the Dairy Sector in Ukraine" implemented by the Swiss Research Institute of Organic Agriculture (FiBL) in partnership with SAFOSO AG (Switzerland)www.qftp.org.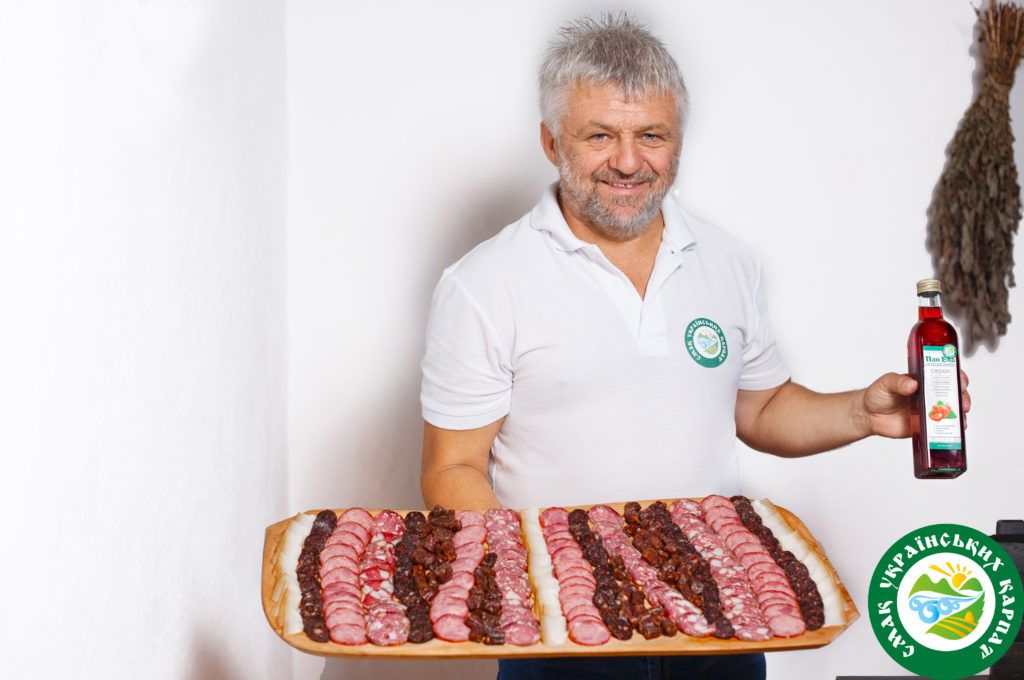 Tasting
To bring the gastronomic flavours of the Carpathian region to its customers, the PU holds tasting events. As a rule, they happen on the territory of Shevchenkiskyi Hai open-air museum in Lviv. Yet, due to the COVID-19 pandemic, the location may be changed.
"The event takes place in an old cozy hut. During the tasting, guests get to taste cheeses from three producers, meats and sausages, honey and juices, Carpathian teas and edible oils, lekvars and products with unique recipes coming from different territories as well as Carpathian alcohol such as wine and palinka (fruit horilka). A tasting lasts for an hour and is accompanied by interesting Carpathian stories about the products and their producers," Halyna Batius explains.
For the record, the first tasting room and taste gallery were opened in 2018 in an authentic hut from the village of Zarichevo located on the territory of the museum. The gastronomic tour offered at the museum is beloved not only by Lviv residents but also by tourists from various corners of Ukraine. The tasting has also had guests from Canada, China, Italy, Poland, Belarus, the USA, Azerbaijan, and other countries.
Halyna Batius says that the Lviv tasting room is just the beginning. The plan is to open similar spots in Ivano-Frankivsk, Chernivtsi, and Zakarpattia region.
Why Taste of the Ukrainian Carpathians TM?
To choose Taste of the Ukrainian Carpathians TM is patriotic since in such a way you support Ukrainian producers. Secondly, these products are tasty and useful. And thirdly, we all need to try new things and with our products you will discover new tastes and flavours," Andriy Karvatskyi summarizes.
The PU is working not only to open tasting rooms but to create an online store where everyone will be able to buy Taste of the Ukrainian Carpathians TM products.
Click HERE to find out more about the Taste of the Ukrainian Carpathians or order their products.https://galnet.fm/lekvar-medove-drazhe-ta-palynka-shho-stvoryuyut-ponad-20-unikalnyh-vyrobnykiv-smaku-ukrayinskyh-karpat/